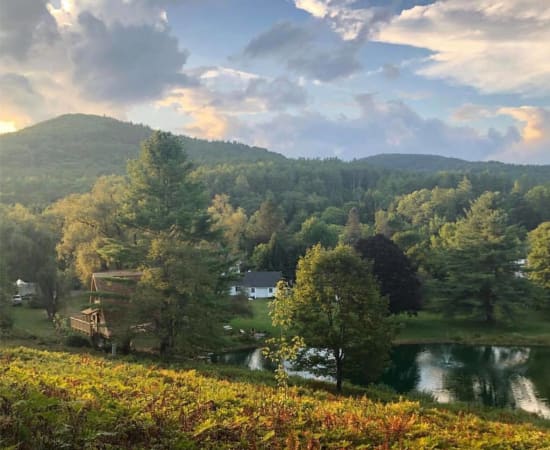 MODERN LUXURY MEETS RUSTIC CHARM
Welcome to Treehouse Village Inn
COVID-19 Update
In compliance with State and Federal guidelines, Treehouse Village Inn is currently not accepting any reservations. We hope to be back soon once our world is in a safe and healthy place!
Welcome to the Treehouse Village Inn, a one-of-a-kind luxury lodging experience nestled in the lush mountains of South Newfane, Vermont. We put an inspired twist on the traditional New England style bed & breakfast, combining modern luxury with rustic charm for a Green Mountain getaway you will never forget. Choose from one of five spacious and tastefully decorated guest suites in our lovely Inn or stay in the crowning jewel of our property, the Willow Treehouse. This private and fully-equipped A-frame style treehouse was built by famed architect Pete Nelson and featured on Animal Planet's Treehouse Masters. That makes us South Vermont's only luxury treehouse rental and Inn. Whatever room you select, the Treehouse Village Inn promises to be the perfect place to unplug, unwind, and reconnect.
Your journey begins with a drive across the charming covered bridge that takes visitors to our beautiful, 5.5-acre piece of land in the heart of Vermont's majestic rolling landscape. No matter what season you arrive, whether blanketed in snow or drenched in summer sun, our property will take your breath away. Our location near several popular mountains, including Snow, Stratton, and Bromley, makes us the perfect destination for your hiking or skiing adventure. We also provide easy access to many sparkling rivers ideal for fishing, swimming, and sunbathing. In the charming small town of South Newfane, you will find delicious restaurants, craft breweries, antique shops, Vermont cheesemongers, and so much more. When you're not out exploring, enjoy a glass of wine at our firepit, play a game of poker or pool in our common room, or simply soak in the gorgeous mountain views that surround you wherever you step. At the Treehouse Village Inn, we provide everything you need to relax and explore the countless wonders of the Green Mountain State.We look forward to seeing you soon!